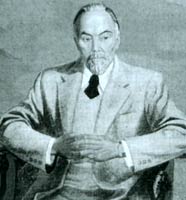 PROFESSOR GEORGE DE ROERICH AND HIS OUTSTANDING CONTRIBUTION TO INDO-ASIAN STUDIES
"India's most gorgeous antiquity….her greatest treasure is her ancient literary language (Sanskrit), the richness and structural features of which are absolutely unique."
– G. Roerich.
The second half of 19th century witnessed unprecedented growth of Indological studies in Russia. A brilliant constellation of scholars Prof. C.R. Lanman, Prof.. V.P. Vasilyev, Rudolph Roth, W.D. Whitney, Prof. S.F. Oldenburg, Prof. Sylvan Levi and Prof. F.L. Stcherbatsky influenced greatly the development of Indology by rejuvenating interest in the critical study of the Vedas and early Buddhist texts. Prof. George de Roerich is one of the most renowned Russian Indologists.
Archaeological discoveries of the 'new Troy' in Central Asia, in Turfan Oasis, of Eastern Turkestan and such finding expeditions evoked a great resonance in Russian for Ideological studies. From 1890, the study of classical Sanskrit was made mandatory for the students of the Slavic and classical Departments of the History and Philology faculties of Russian Universities. In 1917, by the time when George Roerich completed K.I. Maya Gymnasia, one of the best educational institutions of the country, Petersburg School of Indology was in bloom. During his college days, George was specially inclined to study ancient classical languages including Latin, Greek and Egyptian. The last he studied under the supervision of Academician Prof. B. Turaev. In addition, he took classes in Mongolian from Prof. A. Rudnev.
In 1918, George's father Nicolas Roerich moved his family to London. Here, George studied Sanskrit and Pali under eminent Indologist Prof. Demison Ross, in the School of Oriental Languages, London University, and three years later mastered his Sanskrit at Harvard University with renowned scholar Prof. C. Lanman, 'Comparative Grammar' lessons of Lanman left an indelible impression on the young scholar and he traced the path of his future studies in these fields. Around this time, George attended lectures of Prof. Rostovzeff on Middle Asia influences in the Art of South Russia. He wrote his first essay on Buddhism and took classes in classical Chinese from Dr. Chao. These were years academically strenuous. After graduating from Harvard, George continued his studies at the School of Oriental Languages at Sorbonne, Paris University, where he learned Mongolian and Tibetan as well.
His teachers were prominent orientalists Sylvan Levi and P. Pelliot. In 1923, George received M.A. in Indian Philology from Paris University and in November the same year he left for Bombay. His long cherished dream of coming to India was fulfilled. By December 1923, George arrived at the threshold of the Himalayas as a member of a scientific expedition to Sikkim. The expedition visited ancient monuments and Buddhist monasteries, recorded local legends, beliefs and artistic traditions. In Darjeeling, George mastered his colloquial Tibetan with scholar Lama L.M. Dorje, who also assisted him in the study of Tibetan Art. In the art of tankha painting. Roerich found striking similarities with ancient Russian icon paintings not only in technique but also in treatment of the subject. "Indeed, it seems that the Russian icon art and the Tibetan pictorial art derive their methods of work from a common source…… Thus we often see on Tibetan paintings the principal figures enthroned on an island (this being usually the case when Buddha or Bodhisattva is represented). Similar images are frequently found on Russian icons……"
In his monograph 'Tibetan Paintings' (Paris, 1925) George attempted to define Tibetan art, tracing the history of its development and classifying the three existing art schools of Tibet. D. Jackson in his 'A history of Tibetan painting' acknowledged that in the Western scholarship, "the earliest account of Tibetan paintings styles…. was that of George Roerich".
Throughout his scientific career, George retained his interest in Central Asian art particularly Tibetan. In his book 'Trials to Inmost Asia' he expressed his desire to prepare a separate work on frescoes of monasteries in Tibet. Years of traveling in the Buddhist regions of Northern India and Tibet laid a foundation for the rich and various collections of Tibetan tankhas dated between 17th and 19th centuries. Part of this collection was later gifted by him to the Hermitage Museum in St. Petersburg.
One of the crucial periods of George's life as a scientist and a man was the Central Asian Expedition led by his father Nicholas Roerich in 1925-1928. In spite of hardships of the expedition and the political instability in the Asian region in those years, George began studies of ancient pre-Buddhist doctrine Bon and translation of its voluminous manuscript. while staying amongst nomads of Chor, in Tibet, he found till then unknown materials on King Gesser. Altogether they contained 16 volumes. Another important discovery made by the Roerich expedition was the 'animal style' (it is a form of ancient art of nomadic origin characterized by animal imageries, used by nomads who had migrated from Central Asia to South Russia in the 7th-8th Century B.C.) amongst nomads of Northern Tibet. "All art object made in animal style found and described by the expedition clearly proved the existence of ancient Central Asian art amongst nomads of Tibet."
The vast archaeological, linguistic and art material collected during the expedition was the foundation for establishment of the Himalayan Research Institute named 'Urusvati' in Darjeeling in 1928. A few months later, the materials of the Institute were shifted to Naggar in Kulu valley. The Institute conducted researches in the fields of archaeology and related sciences. It had scientific exchange with 285 institutes, universities, museums and libraries around the world.
In India 'Urusvati' collaborated with the Jagdish Bose Institute, Asiatic Society of Bengal, Maha-Bodhi Society in Calcutta and Vishva Bharati University. At a personal level, Rabindranath Tagore, Pandit Rahul Sankrityayana of Patna, Prof. Suniti Kumar Chatterjee of Calcutta Univesity, Tibetan scholars Lama Lobzang M. Dorje and Lama Gedun Chomphel of Darjeeling, were closely associated with 'Urusvait.' Tibetan studies occupied a significant part in the activity of 'Urusvati' At the initiative of its Director the series 'Tibetica' came to life. In 1934 the 'Tibetan English Dictionary' was published by George and Lama L.M. Dorje. Around that time another huge work was undertaken by George – compilation of Dictionary of Medical Herbs. The project was assisted by two Tibetan Lamas invited to 'Urusvati'. One of the methods developed by George was to bring to the Institute people who practiced (lived) the culture – Geshes, Lamas or Pandits.
The pioneering work on Tibetan history, recognized by Orientalists worldwide, was a translation of voluminous treaties of 15th century "Blue Annals" published by George from Asiatic Society in 1949 and 1954 in two volumes.
From 1948 George lived in Kalimpong, where he made acquaintance with Prince Peter of Greece, specialist in Tibetan and linguist and worked with R. Sankrityayana on the translation of the Buddhist text 'Pramanavaartikam' from Tibetan into Sanskrit. The growing need in Tibetan Grammar motivated him to write 'A textbook of Colloquial Tibetan', along with T.L. Phuntshok.
After spending almost 30 years in India George returned in 1957 to Soviet Russia, where he made efforts to revive the Russian School of Oriental Studies, which was deeply shaken by the Second World War and political prejudices. As the Head of the Indology Department in the Institute of Oriental Studies in Moscow, Dr. Roerich resumed editing of 'Bibliotheca Buddhica', a series devoted to the publication of Buddhist texts and monographs on this subject, started in 1897 by Prof. S.F. Oldenburg. Under the series, were published A.I. Vostrikov's 'Tibetan Historical Literature' and 'Dhammapada' translated from Pali.
In Moscow, George began preparing for publishing the voluminous work 'Tibetan-Russian-English Dictionary with Sanskrit parallels'. The project came to light two decades later. Around the same time were written his 'Essays on Tibetan Language' and 'The History of Middle Asia'.
Indeed, it will take years to fully evaluate Dr. George Roerich's contribution in various fields of Indo-Asian studies and bring to light the remaining manuscripts of his works.
The article is a loving tribute to the great Orientalist and the man whose integral vision had inspired a whole generation of scholars.
Natalia R. Kravchenko and Vladimir Zaitsev.
[ Newsletter | List of Newsletter ]