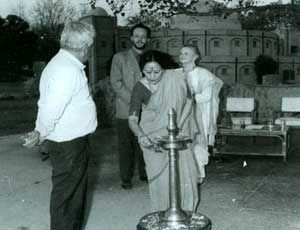 Dance and Divinity
EXHIBITION – For Dr. Mreille-Josephine Guexennec, dance is not a mere art or entertainment. She sees in the dance forms the expression of the inner divinity. Dr. Guezennec has traveled all over India and taken photographs of almost all the prominent dancers.
She has held several shows of her collection world over. In India, her first exhibition was hosted by IGNCA. The exhibition of photographs under the title "Celebrating the Divine In Exalted Bodies" was inaugurated by noted danseuse Smt. Sonal Mansingh on April 9.
According to Dr. Guezennec, the spiritual dimension of the Indian dance forms is what sets them aside from other dance forms. While the latter are artistic, aesthetic and physical, the Indian dance forms transcend all that, she says. Dr. Guezennec also studies Vedic astrology and in fact feels there is an underlying relation between the two subjects. While Vedic astrology is a science dealing with the cosmos, the dance forms mirror the very cosmos of the body, she says. While her exhibition on dance was on, she also gave a lecture, the synopsis of which is in the events page.
[ Newsletter | List of Newsletter ]