Guwahati Regional Center
The Centre, through its activities in the North East, aims to draw attention of policy makers, planners for human development along with the general public for understanding North- East India in terms of its cultural diversity, unique traditions, life styles and ecology. Conferences, publications, research and field studies, festivals, exhibitions, audio-visual documentations, artist's workshops, crafts demonstrations and capacity building are some of the activities under the North East programme.
IGNCA has developed rich cultural archives on North East India. Some major activities in the recent past:
Purvotari – Spirit of North East India: Conference, Exhibitions and Cultural Performances in Delhi.
Celebrating Inter-Cultural Dialogue between North East and South East Asia: International conference, exhibition and cultural festival throughout the North East and in Delhi.
Indigenous Theatre Festival of North East India in April, 2011.
National Symposium-cum-Workshopon Significance of Bamboo in the Socio-Cultural & Economic Development of North East India – A Celebration of Bamboo Culture in collaboration with Department of Cultural & Creative Studies, North-Eastern Hill University, Shillong & Riti Academy of Visual Arts, Shillong in North Eastern Hill University, Meghalaya from in March, 2016.
Major ongoing research project:
Documenting the Textile Traditions of the North Eastern States of India in collaboration with National Institute of Design, Ahmadabad. It is a composite design study of fibres, fabrics, looms, tools, weaving techniques and dyeing methods, and also narratives, myth, migration stories, and unique socio-cultural practices of the indigenous communities.
Projects / Papers / Exhibition Details
Press Reviews
Previous program
---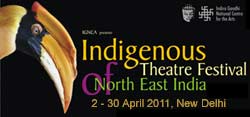 ---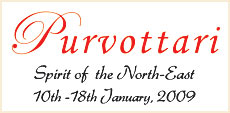 Contact Details
Dr Richa Negi
North East Regional Centre, Guwahati, Assam
House No. 5, Hem Chandra Marg Ujaan Bazar,
Riverside, Guwahati – 781001
Assam
Project
Reports
Archaeological Sites