Puducherry Regional Centre: A Centre of Arts, par Excellence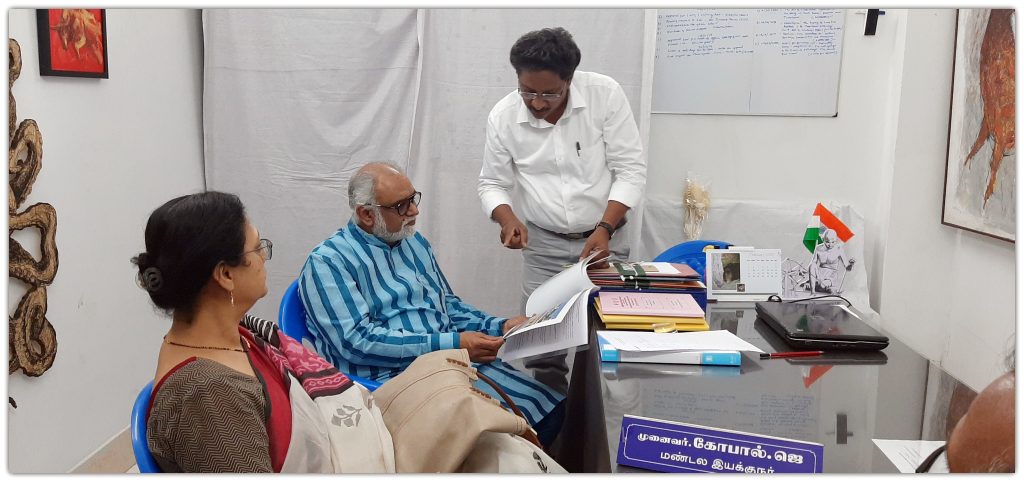 Puducherry, a- multi cultured territory, meant for its Spiritual and Cultural splendour, has been, playing its pivotal role as one of the world famous spot wherein any one can come across the glamorous glorified personalities like MahaKavi Bharathi, the Revolutionary Poet, Bharadhidasan, Sri Aurobindo and the Mother, the eminent integral yogis of the last century. Though Puducherry being, a union territory of India, it has been acclaimed as the Ivory seat for all the pre-eminent spiritual and cultural doyens who have paid their irrevocable roles in the movement of freedom for India. Many world- renowned personages like Swami Vivekanandha, National Poet Rabindranath Tagore, Mahatma Gandhi, Va.Ve.Su. Iyer, Jawaharlal Nehru, and so many such like great persons have chosen this place and paid their historic visits to Puducherry, simply for its Spiritual and Cultural Values.
In a Region having so many splendours and glories, our Regional Centre has been started in 2017.  After having consultation with the Government of Puducherry, our Regional Centre has been allotted a temporarily a place to function from as a foot-holding one, to initiate the activities within the premises of Romain Rolland Library Complex, Puducherry, from 2018. It has been started to conduct various activities and projects of Archaeology, Epigraphy, Rare Curios and Manuscripts Preservation, Folklore, Anthropology and Cultural Studies surrounding the Region. The activities, especially, at present our regional centre has been holding are the following:
Exhibitions-(Art & Craft, Sculpture, Antiques, Museum Objects, Manuscripts Archaeological Artefacts etc.)
National and International Seminars and Conferences and Symposia
Folk and Cultural Performance Programmes
Fine Art and Performing Art Discourses
Training Programmes and Workshops on Art and Cultural related subjects
Music Concerts
Writers / Artists / Authors meets
Documentation of Research works on Temple Architecture, Temple Sculpture, Epigraphy, Folkloristic, Indian Heritage and Culture
Camps -Art and Culture- Heritage,
Our Puduhcerry Regional Centre has taken as an essential pledge and an inevitable vow to awaken the aesthetic consciousness and the instinctual verve towards learning, digesting and assimilating the strengthening spirit, the enriching knowledge by means of documenting and digitalising as well as creating the thirst for Self-Realisation through our Art and Cultural Research Activities as well by enlarging the vistas of sharing and studying and exploring the Horizons of the Arts, incessantly and enthusiastically.
Dr.Gopal Jayaraman

Regional Director, Regional Centre
Indira Gandhi National Centre for the Arts (Autonomous body of Ministry of Culture, Govt. of India) Art and Craft Village Campus Murungapakkam Puducherry -605004

Phone: 04132962280
Email: regionaldirector.rcp@gmail.com
Related Links
Puducherry Regional Centre Paid Tribute to Mahakavi Bharathy