Personal Collection
Kala Nidhi Reference Library is fortunate to have received personal collections of some of the most eminent Indian scholars and artists. Collections of ten such personalities have already been gifted to the library, either by themselves or their family members. These collections developed by its owner over a period of many years for their personal use, contain books and other items which are unique in nature. All these collections are kept separately, properly classified and catalogued to provide easy access to the users. They are housed in the mezzanine floor of the Reference Library.
---
Professor Suniti Kumar Chatterjee Collection
Prof. Suniti Kumar Chatterji (1890–1977) was a philologist and a litterateur of very high order with many books and innumerable articles to his credit. Prof. Chatterji did his M.A. in English from the Calcutta University. He studied and researched in Indo-European linguistics, origin and development of Bengali language, Slav and Austro- Asian linguistics in London University and Sorbonne University in France. He obtained the degree of D.Litt. from the University of London. He knew at least three dozen languages, ancient and modern, Indian and foreign that includes Sanskrit, Hindi, Gothic, Avesta, Greek, Latin, Arabic, Persian, English, French, Russian, Italian, all South Indian languages, a few tribal languages of India, and so on. He held many academic positions, including that of Khaira Professor of Comparative Philosophy in the University of Calcutta in 1927. In recognition of his great contribution Prof Chatterji was made National Research Professor in Linguistics by the Government of India in 1964. He was also appointed Chairman of the Sanskrit Commission, constituted by the Government of India, in 1956. In that capacity he compiled a report (Report of the Sanskrit Commission-1956) which is a piece of both literature as well as history. He was the President of the Bangiya Sahitya Parishad, Calcutta in 1961 and the President of the Sahitya Akademi in 1968-72.
Prof Chatterji had accompanied Rabindranath Tagore to the Far Eastern countries and had recorded his experiences of the great cultural heritage of the area in his delightful Bengali work Dvipamay Bharat. He was also an expert on Bengali literature, tribal cultures of India, and art and culture of Asia. He was a prolific writer in English, Bengali and Hindi. Among his works, mention may be made of: Origin and Development of Bengali Language, Bangla Bhashatattver Bhumika (in Bengali), Bharat Sanskriti, Kirata Jana Sanskriti, and Aryabhasa aur Hindi (in Hindi).
The very special and valuable collection of Prof Chatterji, of more than 20,000 volumes, was donated by his worthy son Shri Suman Chatterji to the Department of Art, Ministry of Education and Culture, Government of India, which was later transferred to IGNCA in 1986.
The language and subject range of Prof. Chatterji's personal collection is as vast as his scholarship. The collection includes books in Sanskrit, English, Bengali, Hindi, Tamil, Arabic, Persian, Avesta, French, German, Italian, Russian and Syriac and covers a wide range of subjects such as Vedic literature, Avesta, Greek and Latin literature, commentaries on the Quran, Greek, Latin, Armenian, Arabic grammar and linguistics, history, art, culture, etc. Although the majority of these books are exceedingly rare & even out of print, amongst those remaining are-
New Testament in Syriac, Homeric Greek, by Pharr
A Lexicon of Homeric Dialect by Richard John Cunliffe
Mahavastu Avadana edited by E. Senart
Divyavadana edited by E.B.Cowell and R.A Neil
The collection also includes several volumes of general reference material and valuable pamphlets.
The donation was made on three conditions: ( i ) the collection should be named "Professor Suniti Kumar Chatterji Collection" (ii) the entire collection should be kept in a separate section of the Library and (iii) a memorial lecture under the title "Suniti Kumar Chatterji Memorial Lecture" should be instituted.
It is gratifying to state that IGNCA has fulfilled all the three conditions.
Prof. Chatterji was a legend of his time because of his encyclopedic knowledge, photographic memory and avid curiosity about human civilization. A true multi-disciplinary mind, Prof. Chatterji belonged to a generation of renaissance minds, who gave the Indian intellectual tradition a new direction.
---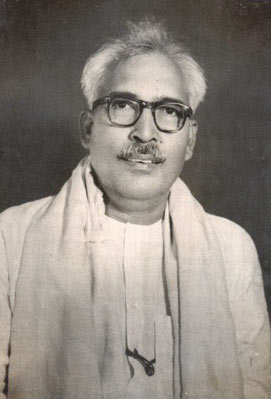 Acharya Dr Hazari Prasad Dwivedi Collection
Hazari Prasad Dwivedi (1907–1979), though steeped in traditional knowledge of Sanskrit, Pali and Prakrit, and modern Indian languages, was destined to be the great bridge maker between the past and the present. His contributions to Indian creative and critical writings are phenomenal. His works Sahitya ki Bhumika, Hindi Sahitya ka Adikala and Madhyakalin Dharma Sadhana gave a new direction to the history of criticism in Hindi literature. As a student of Sanskrit, steeped in the Sastras, he gave a new evaluation to Sahitya-sastra and he can rightly be considered as great commentator on the textual tradition of literature. He is also known for re-evaluating Kabir.
His creativity as a writer can be seen in his works Banabhatta ki Atmakatha, Punarnava, Charuchandralekha and Anamadasa ka Potha where he recreates the ambience of different historical periods and milieus with delicacy and lucidity. Using a colloquial style his writings bring out the fundamental concepts & notions central to Indian traditions. His prolificness is evident in the publication of his collected works that were published in 12 volumes.
From 1940 to 1950 he held the office of the Director of Hindi Bhavan in Visva-Bharti where he came in close contact with Gurudev Rabindranath Tagore. It is said that his deep faith in the human spirit, manifested in his writings, took roots under the influence of Tagore. While teaching Hindi at Shantiniketan he was also able to imbibe the subtleties of Bengali literature, the aesthetic sensibilities of Nanda Lal Bose, the search for roots of Kshitimohan Sen and the gentle but piercing humour of Gurudayal Mallik. He was a master of many languages including Sanskrit, Pali, Prakrit, Apabhramsa, Hindi, Bengali, Punjabi and Gujarati.
In 1955, Dr. Dwivedi was appointed a member of the first Official Language Commission by the Government of India. He was awarded 'Padma Bhushan' in 1957 and in 1960 he was offered the post of Professor and Head of the Hindi Department by the Panjab University, Chandigarh, which he held almost till his retirement. Acharya Dwivedi also had the privilege of teaching India's former Prime Minister late Smt. Indira Gandhi.
The library of a doyen of this stature as one can imagine contained more than 13,000 volumes, comprising rare editions of Sanskrit, Pali, Prakrit and Hindi works, a sizeable collection of creative and critical writings in modern Indian languages and general volumes on religion and philosophy. It was donated to IGNCA by his illustrious son Dr. Mukund Dwivedi in 1988 at a ceremony held at the residence of Late Shri Rajiv Gandhi, the then Prime Minister of India.
---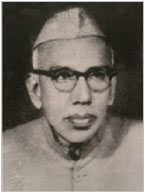 Thakur Jaideva Singh Collection
Thakur Jaideva Singh (1893–1986) was a renowned musicologist, connoisseur of classical music and a great scholar of Indian Philosophy and Kashmir Saivism. He was a versatile genius and a rare combination of philosopher, Sanskritist and musicologist. He was a lecturer of Philosophy and English in the D.A.V College, Kanpur. In 1945, he was appointed Principal of Yuvarajadutta College, Lakshmipur–Khiri. As the Chief Producer in All India Radio (1956-1962) he contributed a great deal to the uplift of classical music.
Thakur Jaideva Singh was appointed as the Chairman of the Uttar Pradesh Sangeet Natak Akademi in 1973. He was awarded Padma Bhushan in 1974 as a mark of recognition of his outstanding scholarship and was awarded honorary D.Litt. Degrees by the Banaras Hindu University and Kanpur University. The several awards and honours he received include the Sangeet Vchaspati of the Indira Kala Sangeet Vishvavidyalaya, Khairagarh, and the Sarangdeva Fellowship of Sangeet Vidyapeeth, Bombay.
Thakur Jaideva Singh wrote many books, important among which are Kabir Vanmay in three volumes (editing and commentary), and English translations of Pratyabhijnahridaya, Buddhist Concept of Nirvana, A Brief History of Indian Music, Vigyanabhairava and Shiva Sutra.
IGNCA received part of his private collection consisting of 1,100 volumes of great scholarly value. The collection is particularly rich in subjects such as aesthetics, saivism, philosophy, musicology and Sanskrit literature. Most of these books were published during the period 1890-1950.
The Encyclopaedia of Religion and Ethics edited by J. Hastings,
Encyclopaedia of Buddhism by G. P. Malalasekhra,
The Dawn of Civilization: Egypt and Chaldaea by G. Maspero,
A Critical exposition of Bergsons Philosophy, A Historical Study of Indian Music by Richard Pischel,
Collected Works of Sir R.G. Bhandarkar : Comprising Early History of the Deccan by N. B. Utgikar,
The Samkhya Sutras of Pancasikha and Other Ancient Sages by Jajnesvara,
Principles of Tantra : The Tantratattva of Shriyukta Shiva Chandra Vidyarnava Bhattacharya edited by Arthur Avalon.
IGNCA acknowledges with deep gratitude the generosity of Smt. Manjushree Singh, daughter of Thakur Jaideva Singh, for donating this rich collection to the Centre
---
Prof. Maheswar Neog Collection
Prof. Maheswar Neog (1918-1995) was an antiquarian, literary critic and poet. He had devoted his entire life to building around him a world of creativity, Indological learning and research. The arena of his work covered all disciplines of Indian studies: language and history, lexicography and orthography, epigraphy and ethnography, historiography and hagiography, fine arts, paintings, music, dance and drama, religions and folklore. He began his career as a lecturer in Guwahati University. He received many honours including the Padmashree (1972), Sadasya Mahiyan, the rare honour of Assam Sahitya Sabha (1978). Professor Emeritus, Guwahati University (1988), Saint Sankardev Award of Assam (1988), and Fellow of Sangeet Natak Akademi (1995).
Some of the important publications of Prof. Neog are: Sankardeva and his Predecessors, Early History of the Vaishnava Faith and Movement in Assam, Rhythm in the Vaishnava Music, Religions of the North-East, Bhaona, Prachya Rachanavali, Assamese Dramas and Theatre, The Bhakti Ratnakara of Sankardeva and History of the Concepts of Bhakti and Art and Painting of Assam.
Though critical appreciation and academic research cover the major chunk of Prof. Neog's writings, he was also a creative artist and poet. Two collection of his poems, Muchafirkhana (Inn 1971) and Sancharini dipashikha (Moving Flame, 1978), for instance, are steeped in nostalgia and bespeak his imaginative insight. He also wrote three works of literary criticism, Asamiya Prem Gatha (1958), Adhunik Asamiya Sahitya (1965) and Asamiya Sahityar Ruparekha (1962).
The 2,600 volumes of his collection comprise books on Assamese studies, Assam history, Assamese drama and theatre and Vaishnava literature of Assam. The majority of books of the collection are in Assamese and Bengali. Some of the important books of this collection are.
Anchalik Bhasa Banam Tribhasa by Bhrigumuni Kangueng,
Ankiya Nat, a collection of sixteen Assamese drama by Shankardeva,
Ancient Assamese Script by Sarbeswar Kakti
A large number of birch-bark manuscripts written in Assamese and Devanagari scripts are also part of this collection. The IGNCA appreciates the generosity of Prof. Neog's family, especially of his son Shri Pranavsvarup Neog, for donating his collection to the Centre in 1996.
---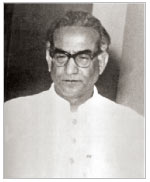 Krishna Kripalani Collection
Krishna Kripalani (1907-1992) was a well-known lawyer who practiced law at Karachi became attracted to Gandhiji's Civil Disobedience Movement and was jailed in 1931. He was a close associate of Gurudev Rabindranath Tagore. He joined Tagore's Visva-Bharti in 1933 and worked there for thirteen years.
Krishna Kripalani's intimate association with Tagore and his awareness of the moods & spirits of the times covering the entire Gandhian Era, the Nehru Era and the later phase, make him a unique biographer, who was able to synthesize the personal with the impersonal in projecting his vision of men and their achievement.
IGNCA is fortunate to have Krishna Kripalani's private library of 860 volumes of books, including many rare books, which he himself had graciously gifted to the Centre in 1986.
Some of the important books in this collection are
Rabindra Rachanabali : Achalita Samgraha
Amara Balyakatha o Amar Bombai Prabasa by Satyendranath Thakur
The Wonder That Was India: A Survey of the Culture of the India sub-continent before the coming of the Muslims by A.L. Basham
Rabindranath Tagore: A biography by Krishna Kripalani
Loka Rahasya by Bankimchandra Chattopadhyaya
Do What You Will : Twelve Essays by Aldous Huxley
My Days with Gandhi by Nirmal Kumar Bose
---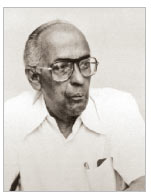 V. K.Narayana Menon Collection
Dr V.K. Narayana Menon (1911-1997) was a great writer and renowned scholar of music. He worked for the BBC during the Second World War and joined All India Radio in 1948 and became Director General in 1965. Besides being the Chairman of the Sangeet Natak Akademi, he held executive positions in a number of cultural bodies of national and international importance in 1969. He received the Padma Bhushan for his services to the field of Music and Broadcasting. A man for all seasons, Dr. Menon has written books on topics as diverse as W.B. Yeats, Kerala and the Communication Revolution.
Dr. Menon also authored a number of valuable books on music and literature. His translation of Thakazhi Sivashankara Pillai's Malayalam novel "Chemmen" into English, for example, is a remarkable literary achievement. Some of the important books of his collection are:
The Arts of Mridangan by T.R. Harihara Sharma
International symposium on the conservation and restoration of cultural property, Preservation and development of the tradition (N.50)
Nritanjali: an Introduction to Hindu Dancing by Ragini
Jane Austen and Her Art by Mary Lascelles
Musicology by Frank LL Harrison
IGNCA is fortunate to have his collection comprising books on Malayalam literature and rare books on music and valuable reports on All India Music seminars and other areas of culture. His collection of 1,850 volumes was graciously donated by his wife Smt. Rekha Menon to IGNCA in 1999.
---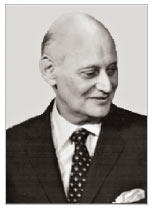 Heeramaneck Collection
Nasli Heeramaneck, was an art dealer, collector, connoisseur, entrepreneur and benefactor. Growing up in Bombay, he learnt the art business from his father who was a well respected antiques dealer. After starting his career with managing the family gallery, he later moved to New York and set up his business there. Along with his wife Alice, Heeramaneck built a rich collection of Asian art which included Indian, Nepali, Tibetan and Islamic art. His rich collection comprising about 2,500 books was donated by his wife Alice Heeramaneck to IGNCA. The collection covers Asian arts and architecture, numismatics and sculpture.
---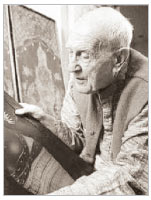 Lance Dane Collection
Lance Dane is an art historian and art dealer.He has written many articles and books on art and has donated many art objects to the archives of IGNCA.Lance Dane's personal collection that was also gifted to IGNCA, contained about 5,000 rare books, covering Indian art and architecture.It also contained a number of books on numismatics.
Some of these are-
Chinese Art by Marin Juan
The Pathans 500B.c-Ad 1957 by Olaf Caroe
India Coins by E.J. Rapson
Lexicon of Travencore Inscription
---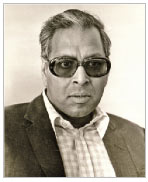 Dev Murarka Collection
Dev Murarka was born in India and lived in Russia for about 30 years. A journalist by profession, he wrote for various newspapers in India and abroad. He had a large collection of books and journals during his career as a journalist in Moscow.
Dev Murarka visited IGNCA in 1993 and offered his collection to the then Academic Director, IGNCA, Dr. (Smt.) Kapila Vatsyayan. He died in March 1998 after a few months illness.
Soon after his death, as was desired by him, IGNCA acquired his collection of 4,500 volumes of books and journals. The collection is particularly rich in access of history, politics, literature and culture with special reference to the history and politics of Afghanistan, Middle East and the Soviet Union.
The books are primarily in English with some in Russian. In addition to several literary journals, the collection also contained many important journals such as Slavic Review, Soviet Studies, and the full set of Problems of Communism.
---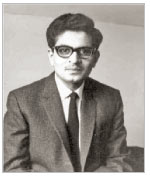 Vinod Sena Collection
Prof. Vinod Sena got his Doctorate on T.S. Eliot as a Playwright from the University of Delhi and a second doctorate in 1970 from the University of Cambridge on W.B.
Yeats as a Literary Critic.
He is the Founder Director of Shruti Information Centre, the Web Master of the Shruti Website, and has been the Founder-Chairperson of the University of Delhi's Committee for Persons with Disabilities since 1998. Prof. Sena retired as Professor of English from the University of Delhi in 2000. He has written and edited many books, and has contributed a large number of articles to scholarly journals.
His books include:
The Poet as Critic: W.B.Yeats on Poetry, Drama and Tradition.
W.B.Yeats: The Poet as Critic
Edited and translated, Darshan Singh, Love at Every Step: My Concept of Poetry
Edited (with Rajiva Verma),The Fire & the Rose: New Essays on T.S. Eliot
Edited, Shri Purohit Swami, The Autobiography of an Indian Monk (with Introduction by W.B.Yeats)
Edited (with G.R. Taneja), Literature East and West
Prof. Sena has donated his collection of 800 volumes to IGNCA in 2005. This collection contains books on W.B. Yeats, T.S. Eliot, books on drama consisting of a large body of European texts in English translation, some seminal books on theatre, and a few important and out of print works of literary criticism. The slides on T.S. Eliot which Professor Sena shot and collected over a number of years for a pictorial biography (which never got written) may be one of the most extensive of its kind available anywhere.
---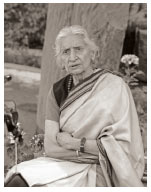 Dr.(Smt.) Kapila Vatsyayan Collection
Dr. Vatsyayan (1928 – ) is a leading scholar of classical Indian dance and Indian art and architecture. Dr. Vatsyayan served the Government in several senior positions including Secretary, Department of Culture, (Ministry of Human Resource Development). She is the founder Member-Secretary of Indira Gandhi National Centre for the Arts and is still associated with the Centre as its Trustee. She is a nominated Member of Parliament (Rajya Sabha). Dr. Vatsyayan was also on the faculties of the Universities of Delhi, Banaras, Philadelphia, California (Santa Cruz) etc. She had been responsible in establishing several cultural, educational and heritage institutions, museums, archives, etc. She also spearheaded the policy framework for programmes of Art History, Education, Sanskrit, Buddhist and Pali Studies. She was Secretary of the Indo-US Sub-committee of Museums and was actively involved in international cultural relations for over 5 decades. Dr. Vatsyayan had authored more than 15 books and many research papers and was recipient of several honours and recognitions.
She has donated her personal library of 6,000 volumes of books, many journals and photographs to IGNCA in 2007. The collection includes many valuable items on Indian dance, art and architecture, culture and literature.
---
Munish Chandra Joshi Collection
Shri Munish Chandra Joshi was the former Director General of the Archaeological Survey of India. He also served as Member Secretary, Indira Gandhi National Centre for the Arts, New Delhi from 1993-2000. His interest in original sources and a deep­ rooted understanding of history, combined with the knowledge of Sanskrit, Pali, and other languages, enabled him to relate monuments, antiquities, and art objects in a most objective manner. He carried out major archaeological investigations in different parts of India and excavated historical sites. Shri Joshi was posthumously awarded the R.P. Chanda Centenary Medal by the Asiatic Society for his important contributions to art and archaeology. His collection of 1,162 volumes comprises the books on Religions, Indian Art, Numismatics, Monuments, Temple Architecture, Archaeology, Inscriptions and History and the Catalogues of Indian and Foreign Museums. 5,000 photographs and 300 slides of different archaeological sites are also part of the collection that was graciously donated to IGNCA by his son Shri Pratik Joshi in April 2011.
---