Adi Drishya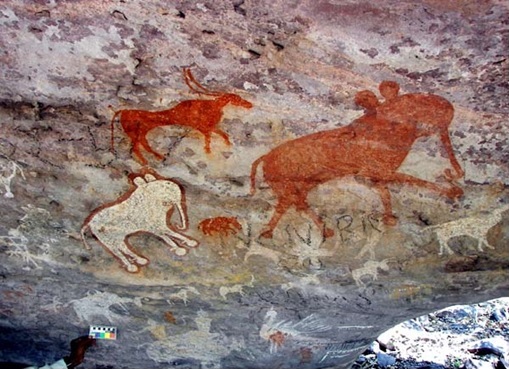 The Indira Gandhi National Centre for the Arts (IGNCA) has conceived a major academic programme, which relates to exploring artistic manifestations emanating from man's primary sense perceptions. Amongst the senses that lead to aesthetic experience are vision (Drishya) and hearing (Shravya). The rock art forms a crucial component of the Adi Drishya programme. Its conceptual plan aims to open the doors to the realisation that rock art is pure and absolute and hence capable of dispensing great experience beyond its original culture and time.
The IGNCA's concern with prehistoric rock art is neither restricted to the Archaeologists, and the prehistorians' concern with establishing a linear chronological order of prehistoric rock art, nor is it restricted to the identification of style and school as criterion for establishing chronology. Instead, it is a concern for man's creativity across time and space and civilisations and cultures through the perception of the sight.
At the moment, there is not much available in India by way of interpretive treatment of prehistoric art. To decipher rock art, mainly three methods, i.e. archaeological, psycho-analytical and ethnographical, are being followed. In the countries where there is no continuity of such traditions due to industrialisation, etc. the psycho-analytical and archaeological approaches are being mainly adopted. The recent concern for exploring new ways and means for rock art research and for deciphering rock art has opened a new chapter in the history of research in prehistoric and tribal art.
The present project has been conceived with a difference giving special attention to a new kind of inter-disciplinary research involving allied disciplines like Anthropology, Geology, Art History etc., which can open new horizons to the study of rock art. Briefly, the goal to be set is not merely the development of a database and a multimedia gallery but also to establish Adi Drishya into a school of thought and research on alternate means of understanding prehistoric art.
Prof. B. L. Malla

Professor & Project Director, Adi Drishya Department
Indira Gandhi National Centre for the Arts
Janpath Building, Janpath, (near Western Court), New Delhi – 110001.

Tel : 91+011+23446413, (M) 9871823287
Email :  rockart.ignca@gmail.com
Project Director
Archaeological Sites
Multimedia CD-ROM Project on