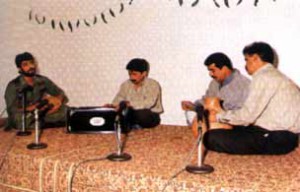 Foundation Days Celebrated Janapada Sampada
celebrated its foundation day on 2nd August 2000 on the occasion of Hariyali Teej. A day associated with the functioning of the Janapada Sampadå division, focussing on the interrelationship of cosmology, nature, lifestyle, social structure, annual calendar, worldview, knowledge, skills, traditional technologies and artistic manifestation.
The function began with the worship of the Nyagrodha (ficus bengalensis) performed by Dr. N.D. Sharma and Smt. Parveen Shah. Nyagrodha symbolises the research activities of the Janapada Sampadå, with branches growing into roots and roots into branches reflecting the interplay of past and present, rejuvenation and renewal.
The cultural programme comprising of Kashmiri and Bhojpuri folk songs were rendered by the folk artists of these areas. The function was further complemented by Shri Manoj Kumar and Smt. Sunita Arora of Janapada Sampadå division who presented Bhojpuri and Punjabi folk songs. Foundation day is also considered important in terms of introspection and year round evaluation of the performance of the division. A report comprising of achievements and activities of the Janapada Sampadå was presented by Dr. Nita Mathur, outlining details of the various programmes and major publications.
Prof. Saraswati in his address gave a detailed account of the Village India Project, 'Identification and Enhancement of India's Cultural Heritage : An Internal Necessisity in the Management of Development'. A major work under the UNESCO Chair in the field of cultural development. He said that the approach in this work is somewhat new. It differs from studies in economic and technological development. Measuring development without reference to culture is emperically unsound. It differs from all other perceptions in so far as it defines village as a person, and cluster of villages as a cosmos. 100 villages from all the 25 States and 7 Union Territories, depending on eco-cultural pockets and other variables are been studied. The present status – 42 final reports received, 3 reports under preparation, 8 villages under study, and 40 villages to be studied. Based on the earlier findings an interim report has been published.
While congratulating the Janapada Sampada on its foundation day, the Member Secretary, Prof. N.R. Shetty in his meaningful address said, "There is a need for strengthing the academic activities of this great institution by not only preserving it's standards but also improving on it, making it a centre where researches of very high quality are undertaken". He further said, "I am happy many good traditions have been introduced and followed very carefully and with all seriousness and one such tradition is what we are having today. I hope this cordiality and harmony that exist in the institution will continue".
Vote of thanks was proposed by Dr. B.L. Malla towards the end of the programme.
[ Newsletter | List of Newsletter ]