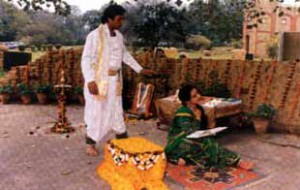 Foundation Days Celebrated Kalanidhi
Basant Panchmi is celebrated every year in the IGNCA as Kalånidhi annual day. On this auspicious day, the Kalånidhi resource library was inaugurated by the then Hon'ble H.R.D. Minister Shri P. Shiv Shankar on 10th February, 1989. Over the years the library has grown in quantity and in content. It has become one of the pioneering libraries in India with collection of print and non-print resources. Kalånidhi is proud to be the largest repository of manuscripts in the microform media. The slide Unit has a collection of colourful transparencies of Indian art, architecture and culture, and is one of its kind in the whole of South East Asia.
The print library with emphasis on disciplines of Arts with automative information has built an excellent collection of books in the area of Anthropology, Archaeology, Architecture, Religion, Philosophy, Arts and Crafts, History of Science and Technology, Environment and Ecology, Computer Science and Information Technology, Library and Information Science etc. The most important feature of the Reference Library, is the personal collections of the eminent scholars e.g. Dr. Suniti Kumar Chatterjee, Thakur Jaidev Singh, Krishna Kirplani, Acharya Hazari Prasad Dwivedi, Lance Dane, Narayana Menon, Maheshwar Neog , Dev Murarka, and Jai Chaturvedi.
The annual day celebration began with the Chief Guest, Prof. R.K. Jain, Head, Centre for Social Systems, School of Social Science, JNU, lighting the lamps amidst sankhnad. Saraswati vandana, was sung in praise of Goddess Saraswati by the IGNCA staff. Shri O.N. Choubey gave an illustrious talk on the importance and relevance of Basant Panchmi in relation with the arts and culture of India. Shri R.C.Ghildiyal, Shri Gagan John and Late Shri Anil Kumar recited a poem each praising the bounties of spring.
Presentation of Kathak dance drama Ritusamhara, a composition of the great poet Kalidasa was presented by Dr. Neelam Verma and accompanists, portraying the arrival of spring. Shri Chandra Singh Rahi, a folk artist and his group sang Jagar, a devotional song of the Garhwal hills sung to evoke the Gods and the holy spirits, accompanied by hudka, a small drum instrument which plays a vital role in all the folk presentations of Garhwal. This was followed by Rauf, folk dance of Kashmir performed on the arrival of spring, when people in festive mood gather in fields and gardens and greet each other; presented by Shri Dilip Langoo and troupe. The programme was presented by Shri Anand Dwivedi.
[ Newsletter | List of Newsletter ]