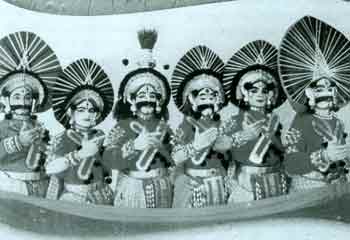 Some Yakshgana Characters
IGNCA Remembers Dr. Shivarama Karanth
Remembers – The IGNCA regional center at Bangalore is organizing a day long National Seminar on the contribution of Dr. K.S. Karanth to the art form of Yakshagana on 28th July 2002 at Bangalore.
Yakshagana has a traceable history of at least six hundred years. In Karnataka, the wonderful art is seen in several forms, adopted by different schools. The two (now three) coastal districts of Karnataka have preserved this art to a great extent. Yakshagana shares some strikingly similar features with the other South Indian ancient theatrical and dance forms such as Terukkootu, Kudiyattam, Kathakali Kuchipudi, Bhagavata Melam, Dodata, Sannata, Srikrishna Parijata etc.
Dr. Kota Shivarama Karanth was the first person to take interest in the theoretical and practical aspects of Yakshagana . He reformed the costumes, scripts, music and other ingredients that make Yakshagana a mesmerising theatre, to suit the contemporary taste and style. At a time when traditional art forms were fast losing audience, he made Yakshagana an attractive art form, interesting to the present day generation. Dr. Karanth is one of the most arresting personalities in the literary and theatre world of India. His interests have been vast and varied. He was a great novelist, innovative playwright, unique essayist, one man-mission-encyclopaedist, cultural anthropologist, art historian, lexicographer, promoter, of science and environmentalist.
Besides honorary doctorates from several Indian universities and fellowships from two national academics – the Sahitya Akademi and the Sangeeth Natak Akademi, he has received the prestigious Janapith award in 1978, Dadabhai Navroji award and Tulsi Samman in 1990. He has written 150 books in Kannada and English. His works have been translated into several Indian languages and filmed as well. Among all his achievement, his contribution to Yakshagana the Indian theatre form is singular.
[ Newsletter | List of Newsletter ]