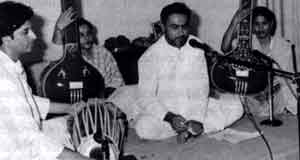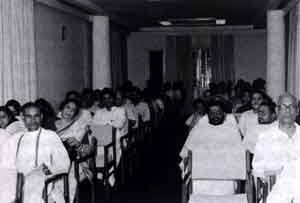 Kamaladevi – the romantic rebel
"When Gandhiji announced his satyagraha, Kamaladevi Chattopadhyay was one of the two women (along with Avantikabai Gokhale) chosen for inclusion in the front line unit of seven volunteers at Bombay. The volunteers arrived at the beach, a sea of humanity…and began to boil seawater in small pans to make salt. She made small packets of the salt thus made and sold it to collect money for the Satyagraha movement. She went to the share market and auctioned her packets to the highest bidders. She then came up with a cheeky idea. She went inside the (High) court premises and held up a packet of salt and asked a startled magistrate if he would not buy "the salt freedom" and even the freedom movement.
That was Kamaladevi; defiant and daring, but always with a touch of cheeky humour. (unfortunately) there are no records of what the magistrate's response was."
Narrating several such anecdotes, writer columnist, Dr. Shakuntala Narasimhan brought to light the many facets of Kamaladevi and said, "Kamaladevi was not one person but four or five different persons. She had achieved five times what any eminent person would achieve in one lifetime."
No wonder even today Kamaladevi is remembered as a rejuvenator of traditional Indian arts and crafts, a champion of women's rights, a social reformer, a fearless freedom fighter and talented revolutionary. It is aptly remarked that, if Gandhiji had brought political freedom, Kamaladevi brought cultural freedom.
It certainly called for a special programme to mark the centenary year and it seemed ideal for IGNCA SRC to have Dr. Shakuntala Narasimhan sharing her thoughts and reading excerpts from her book `Kamaladevi Chattopadhyay The Romantic Rebel.'
A few months before Kamaladevi passed away, Dr. Narasimhan had lunch with her. Her hostess informed her well in advance that Kamaladevi was slightly hard of hearing. So during lunch, Dr. Narasimhan asked her, a wee too loudly, "Kamaladeviji, how do you spend your time?" For Dr. Narasimhan it was to be an unforgettable moment when she found Kamaladevi looking at her with her eyes narrowed and a withering look of great contempt while retorting, "there are so many things to do in life, I do not have enough time." She was in her eighties. And as a parting shot added that "you needn't speak so loudly, I can hear."
For Dr. Narasimhan it was a `big lesson' that activated her to work far more productively for the next twenty years. That is the kind of effect she had on the people.
Kamaladevi was a remarkable woman with many firsts to her credit. During the early days of independence it was not fashionable for ladies to wear cotton sarees, ethnic jewellery, flowers or keep objects of terracotta or brass lamps at home. The lady who changed the entire cultural perspective was Kamaladevi Chattopadhyay who resurrected all the disappearing art, craft and theatre forms. She instituted national awards for craftsmen for the first time and was the first chairperson of the All India Handicrafts Board and helped set up a chain of cottage industries emporia in different cities. Besides this she set up the Sangeet Natak Academy, the ICCR and sold her immovable property at Mangalore to set up a museum of theatre crafts. These are merely a few sides to her accomplishments.
Stringing together episodes, Dr. Narasimhan had the audience listening to her spellbound. She recalled the time when Kamaladevi single handedly set up the Faridabad industrial township outside Delhi with 50,000 refugees who came from Pakistan in the aftermath of the partition. Nobody knew what to do with them. It was Kamaladevi who found the land, got the permission, taught them how to build houses, to raise kitchens and learn new professions.
In her missionary zeal she championed the causes of women empowerment, education, handicraft, theatre along with her contribution to the field of arts, crafts and writings. In her pursuit and commitment she turned down many offers such as being nominated to the posts of the Vice President of India, Governor of Orissa or Tamil Nadu, Ambassador in Cairo or Moscow. She preferred instead to devote herself to social causes. It was her courage displayed with a keen sense of humour that was extremely rewarding.
Known as the `culture queen of India' she was honoured with the prestigious Ramon Magsaysay International Award for her contribution to community work, the UNESCO award for crafts promotion and the Padma Vibhushan for her writings. It was certainly an achievement for a woman who came from a traditional Saraswat Brahmin family of Karnataka.
The centenary programme was organized at the Nayana auditorium, Kannada Bhavan. Hon. Minister of Karnataka for Kannada and Culture, Smt. Rani Satish and Justice Nitoor Srinivas Rao, former Chief Justice of Karnataka graced the occasion as Chief Guest and Guest of Honour respectively. Their reminiscences added to the occasion. Prof. P.V.Krishna Bhat welcomed the gathering in the midst of the imposing presence of the portraiture of Kamaladevi, essayed by a local artist Subhash Kammar, which served as a perfect backdrop.
As a befitting tribute to a cultural icon of India one can conclude with the words of former President of India, R. Venkataraman, quoted in Dr. Narasimhan's book, "Flower buds seemed to blossom at her touch-whether they be flower buds of human beings or institutions. People became more human and more sensitive to the deeper impulses of society when they came into contact with her…."
Kala Kosa Annual Day
The annual Day of the Kala Kosa Division is held on the Vyasa Purnima day, which is also known as Guru Purnima. Recitation from the Vedas, Guru Vandana and a lecture form part of the day's celebrations. This year, the Chief Guest of the function was Dr. Shridhar Vashist.