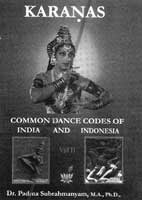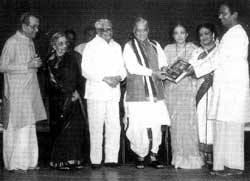 Karanas – Common Dance Codes of India and Indonesia
Dr. Padma Subrahmanyam is an outstanding exponent of classical dance of our times. A multifaceted prodigy, she holds remarkable mastery over music (Carnatic, Hindustani and Western), literature (Sanskrit and Tamil) Sculpture, Architecture, Epigraphy, History, Cinematography and many more. Above all, her capabilities as an ace performer, choreographer, teacher and researcher in the field of Bharata's art are illustrious. Her extraordinary skill in nritta, sukumara and uddhata styles and captivating rasabhinayam unfailingly appeal to both the learned and the lay. Its grand proportions and sublime imagination enriched with Dr. Padma's unique music are unrivalled in the whole range of classical dance. Added to these enviable virtues, her capabilities as a serious research scholar in the challenging area of theatrical arts of pan Indian culture are indeed profound. Her broad based understanding of our heritage deeply rooted in an unalloyed national spirit and spiritual awareness have unmistakably contributed a lot to a clearer understanding of the pan Indian culture in general and the art of Bharata in particular.
The very name of Dr. Padma Subrahmanyam is synonymous with the Karanas (basic dance units of Bharateeya Natyam). Though there are a few people who have worked in this area, it is Dr. Padma who gave a complete and convicing reconstruction to all the 108 Karanas inclusive of all the Sthanaka-Nrttahasta-Chari technicalities of rechaka etc., both in theory and practice. Even to dispute with her research, one has to rely on her untiring revelations.
Though Dr. Padma started her research on karanas in early sixties and completed her thesis on the same in 1978, her work was long awaiting publication. In recent years she included astounding additions in the light of the discovery of karana-sculptures of Prambanan. Karanas – Common Dance Codes of India and Indonesia is the fruit of her decades of research and the recent additions. Published in three volumes by Nrityodaya, the school of dance directed by Dr. Padma, it is a gift to the society as the school celebrates its platinum jubilee and Dr Padma's dance career's golden jubilee. This stupendous task was financially supported by the Government of Tamil Nadu, in the form of publication grant. The Southern Regional Centre of IGNCA at Bangalore was honoured to receive the first copy of this monumental work from Dr. Murli Manohar Joshi, Hon. Minister for HRD, Govt. of India who released it on July1, 2003.
Seventeen chapters of this book are compiled in two volumes (Chapters 1-9 in the first volume and the remaining in the second volume) while the third one is entirely devoted to illustrations in colour. Here all the available karana sculptures from Tanjavur, Kumbhakonam, Chidambaram, Prambanan and Satara are given. (The 108 karanas of Satara are the creations of Sri Muttaiah Sthapathi under the direction of Dr. Padma as per the blessings of Sri Paramacharya of Kanchi). The unique feature of these karana sculptures are manifold. Here both Siva and Parvathi images are shown and the four arms of Siva along with Parvathi represent the course of action and are essentially present in every karana. Along with this, exquisite photographs of Dr. Padma performing the Karanas are also furnished. Here one can observe the amount of sattva involved in bringing out the spirit of every karana.
The first volume is devoted to the historical and mythological issues connected with the Natyasastra. In this Dr. Padma has done a wonderful comparative study of all the available desi natya traditions and has undoubtedly shown their indebtedness to the pan Indian marga tradition enshrined in Bharata. Later, historic perspective of the Karanas, their origin and universal spread out are traced in great detail. Next comes a thorough study of the Karanas in architecture with special emphasis on the sculptures of Tanjavur, Kumbhakonam, Chidambaram, Tiruvannamalai, Vriddhachalam, Satara and Prambanan. Dr. Padma has an interesting chapter on Natyasastra in ancient Tamil soil. This is an eye opener which dispels many wrong racial and separatist theories apart from giving first hand information regarding many valuable nuggets essential to reconstruct the nature of classical dance before many centuries.
The second volume is entirely devoted to the practical reconstruction of all the 108 Karanas as given by Bharata and as expanded by Abhinavagupta (10th century A.D.) in his Abhinavabharati. Of course Dr. Padma has not ignored the other latter sources like Sangeetharathanakara which faithfully follow Abhinavagupta. As an inevitable prerequisite to reconstruct the Karanas, Dr. Padma gives the basic details like the Anga-Upanga-Pratyanga movements, Sthanas, Charis, Nritta hastas and Rechita (Rechaka)s in minute details. Later she takes up all the karana's (from Talapushpaputam to Gangavataranam) lakshana sloka from the fourth chapter of Natyasastra and decodes their meaning in the light of Abhinavabharati and interprets the same with the help of various karana sculptures. She gives at length the methodology of practical reconstruction, which is of paramount importance to a performer (this aspect was completely missing in the earlier research by different scholars). The true artistic and analytical mind of Dr. Padma, her insight in both the theory and practice and above all, the vision of body-mind-soul co-ordination are all well buttressed in this section. Later she gives the viniyoga (uses) of every karana and finally makes her own comments which explain the difficulty involved in such Herculean tasks. A special chapter on rechakas the very breath of Bharata's Natya as revealed through the karanas completely justifies the aesthetic appeal and creative exuberance of the same and this is followed by the extension or application of Karanas in the form of Anguharas, Mandalas and Pindibandhas. Here Dr. Padma tries to explain the choreographic elements, in an integrated approach towards nritta which is generally misunderstood by many past and present scholars, performers and teachers as devoid of rasa and bhava and ably disproves this wrong notion and establishes the rasa-bhava-bharatva of nritta as revealed through the karanas.
To conclude, karanas were, (before Dr. Padma Subrahmanyam's life time research and performance) practically a forgotten chapter in the history of Indian dance since the past six centuries. Of course, there are references in various regional, traditional, theatrical and dance forms, though in a modified or corrupt form. This book has revived that glorious chapter for further study, application and appreciation. Here lies the significance of Dr. Padma's untiring effort. It may not be an exaggeration to say, by looking at her monumental work both in print and practice that here is an Abhinavagupta of the twentieth century. The world of dance and culture is highly grateful to Dr. Padma. We hope to have a cheaper, compact and attractive edition of this exclusive book along with a high quality C.D. visual album demonstrating all the aspects of 108 karanas..
– Dr. R. Ganesh, SRC, Bangalore
[ Newsletter | List of Newsletter ]