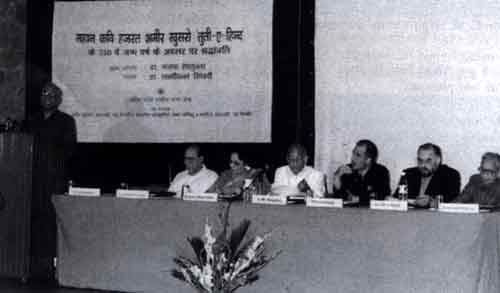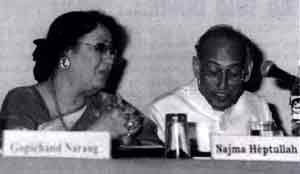 Dr. Najma Heptullah and Dr. L. M. Singhvi at the inaugural function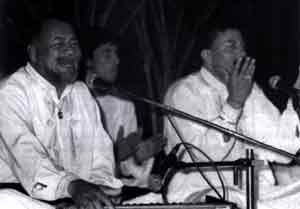 Wadali brothers
"Main Hindustan ka tota hoon…."
The image that comes to the mind when Amir-Khusro's name is mentioned is that of a legend ary poet. But Khusro was more than a great poet. He was a visionary who dreamt of strengthening the national unity of `Hindustan' through the medium of Hindi over 700 years ago. Though a scholar in several languages including Persian, Turkish, Arabic and Sanskrit, he believed that a complete national integration could be achieved only through the medium of `Hindavi' or Hindi.
In a tribute that befits the memory of this great litterateur, IGNCA hosted day-long programmes on August 9, 2003, on the occasion of the 750th birth anniversary of Amir Khusro. Deputy Chairperson of Rajya Sabha, Dr. Najma Heptullah was the Chief Guest on the occasion. She said "Amir Khusro is more relevant today than ever before." He laid the spiritual foundation for the secular tradition in India, she added.
Dr. L.M.Singhvi, in his Presidential address said, Khusro was like a confluence of many rivers and according to the Indian tradition confluences are sacred. He defined patriotism. He defined it as Faith, as one bond that is most important. He was rooted in the tradition and heritage of India and his spirit was that of transcendent spiritualism. Dr. Singhvi added. In his welcome address, Prof. Indra Nath Choudhuri, Member Secretary IGNCA said Khusro had seen 11 kings and served seven kings of Delhi. He said he had brought together two religions – Hinduism and Islam, two cultures Hinduism and Islamic.
The legacy of Khusro is shared by other Central Asian countries including Turkey, Iran and Afghanistan. Of these, Afghanistan and Iran were represented on the occasion by their Ambassador and Cultural Counsellor respectively.
Speaking on the occasion, Afghan Ambassador Mr. Masood Khalili said the overwhelming emotion in the works of Khusro was `Love', without this, the world would collapse, palaces would go an panels would be destroyed he said. Khusro belonged to the caravan of saints, be it from Hinduism, Christianity, Islam or any other religion he added.
Iranian Cultural Counsellor, Mr. Issa Reza Zedeh said some figures in history are not confined to date and geography. Khusro is one such person. Khusro is alive today if his words have any meaning to us, in our lives. So he is alive to some of us, he added. Khusro's 100,000 couplets are part of the curriculum for the students of Persian, Mr. Zadeh said.
Khusro was a great patriot. He once said "If you ask me the truth, I am the parrot of Hindustan; if you want to talk to me in sweet words, you can do so in Hindavi". He understood the importance of communicating in the language of the masses, which was Khari boli. He composed poems in it with pride and pleasure.
One of his greatest contributions to the promotion of national language was the dictionary titled `Khalikbari'. It is a dictionary of synonyms through the medium of beautiful dohas in which Hindi equivalents of Persian, Arabic and Turkish words are given. This was an unprecedented original work.
Centuries before secularism became a fashion, Khusro advocated and practiced it. He declared himself a Kafir of love and love alone. "I do not require any label of Islam. Every nerve of mine has become a sacred thread and therefore I do not require the religious sacred thread as a show piece," said Khusro. His wrintings reflected the deep love he had for India. He compared it with heaven and found it not wanting in anything.
The programme began with the presentation of a nazm written by Dr. Singhvi on Khusro. It was rendered in classical music style, by Smt. Vidya Rao. The opening words of the poem were `Vatan ke shayar'.
Prof. Gopichand Narang, President, Sahitya Akademi, said Khusro was the first Persian scholar to emerge in this sub-continent. Several other scholars have followed him, but Khusro remains unparalleled, he said.
A book on Khusro titled `Bharat Ki Mahan Vibhooti-Amir Khusro' written by Dr. Paramanand Panchal was released on the occasion. It was released by Dr. L.M. Singhvi. He urged the Sahitya Akademi to do more justice to Khusro through its publications.
Amir Khusro's verse in Arabic, Persian and Brij Bhasha were rendered in Qawwali by Ustad Hayat Khan Nizami. A film `Rumi in the land of Khusro' by Muzaffar Ali was screened as conclusion of the inauguration. The film traced the similarities between Khusro and Rumi, a Sufi saint held in great reverence.
In the afternoon session, a symposium was held with Mr. Syed Shahid Mahdi, Vice Chancellor, Jamia Millia Islamia University as the Chairman. The speakers discussed various aspects of Khusro, his works and his contributions to the Indian social, literary and spiritual life.
A gala finale to the day-long programmes was the concert by Wadali brothers of Amritsar.