Mass fumigation: An attempt
A unique of the IGNCA library is the personal collection of eminent shoclars and artists like Acharya Hazari Prasad Dwivedi, Dr. suniti Kumar Chatterjee, Thakur Jaidev Singh, Lance Dane and several others. the books in their peronsal collection have been either gifted to IGNCA or acquire by us.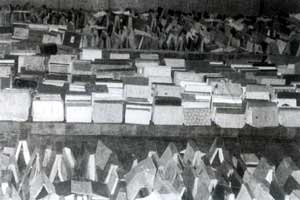 Positioning of books
A few months ago, yet another collection – of Ram Sharan Tripathi from Aligarh – was added to our library. This collection had about 2500 books and a few hand written manuscripts on Sanskrit literature and Indology. Unfortunately the collection was in a bad condition, had insect infestation and accumulation of dust. It was hence dangerous and not advisable to shift this collection to the library. After careful thought it was decided to adapt mass fumigation technique for the collection. the entire collection was erected in inverted – 'V' position. This position ensures the penetration of fumes uniformly through all pages. The air conditioning ducts, openings and doors were carefully sealed. The first step was to spray cyflothrin (brand name Solfi) in every corner of the room and surface of walls. This was done to prevent insects from escaping to safety, live.
The next task was to create fumes for fumigation since 'spraying' or 'brushing' could result in stains on books and cause more damage. Fumes of 'cyper methrin' were created and the room was sealed completely for 72 hours.

This work was done on an experimental basis. After opening the seal, manuscripts were brought to conservation laboratory while the books are being accessioned. Post operation observation indicated that there is complete eradication of insects. Acknowledgments are due to Shri M.S. Tabrez, Pest Control Incorporated for support in the completion of the task.

By Ms. Ritu Jain
Music teachers visit IGNCA
A twenty five member team sponsored by the Faculty of Music and Fine Arts, Delhi Univesity, visited IGNCA on February 24th 2004. There member were the participants of a month long refresher course for music teachers form all ove India that was conducted at the Delhi University by the Centre for Professional Dvelopment in Higher Education (CPDHE) under the auspices of UGC.

Before taking them around in IGNCA, Dr. Advaitavadini Kaul, from the Kalakosa Division introduced the team to the working of IGNCA, through its five divisions and various research programmes. Dr. Kaul showed them the Slide Unit, Microfilm Unit, Cultural Informatics Lab and the visiting all the units. A brief slide presentation and a multimedia presentation was also made for them. The IGNCA microfilms collection increased because their excitement, the availability of research material at one place. The members of the team in general and the Faculty members of the Department of Music and Fine Arts, Delhi University in particular desired to regularly send their research scholars to IGNCA in order to enable them to widen their horizons of knowledge by getting acquainted with the working of IGNCA and thereby get to know how each art form was related to other forms of arts.
Folk Art Festival
Andhra Pradesh in South India is known for its variety in folk arts. The four geo-cultural pockets of Andhra Pradhesh : Telengang, Rayalaseema, Uttar Andhra and Coastal Andhra are specially known for their peoples' unassuming creative expressions.

In a move aimed at drawing attention to the region, Telugu Folk Arts Festival-2004 and National Seminar on Folk Performing Arts was organized on January 19-21 at Vijayawada, Andhra. This three-day event was organized and sponsored by Shriram Group Companies. Three scholars form IGNCA, Prof. R.K. Bhattacharya, Head of Janapada Sampada division, Dr. Richa Negi and Dr. Kailash Kumar Mishra participated in the seminar.

The main objective of the seminar was to explore various measures (and views) to revive, protect, preserve and promote the folk arts and bring popular awareness about various aspects of Indian folk arts and particularly in South India.

The major themes of the seminar were disucssed in five sections. 1. Andhra folk art: past, present and future; 2. Comparative study of folk arts in India with particular reference to the four States of South India; 3. Lesser known folk programmes and their contextual study; 4. Folk performing methods; and 5. Measures for survival, preservation and promotion of Folk Arts.

As scheduled, everyday, after the seminar there followed folk arts performance programmes in the evening from 5.30 p.m. to 9.00 p.m. at Tummalapally vani Kshetrayuya Kalakshetram. Scholars, mainly from Andhra Pradesh and neighbouring three South Indian States participated in the seminar. Professor R.K. Bhattacharya delivered a very scholarly and stimulating keynote address at the seminar.

Dr. Richa Negi and Dr. Kailash Kumar Mishra, presented papers. Dr. Negi shared the Pandav theatre performance of the Garhwal-Himalaya. This being her Ph.D. topic, she explained the local significance, style, rhythm and connectivity very well. Dr. Kailash Mishra presented his paper on the Sanchi Folk festival and paintings by the young unmarried girls of most of the North-Indian states, mainly H.P.; Rajasthan, Haryana, Western U.P. etc. His paper was based on the first hand data from the Mewar of Rajasthan and Malwa in Madhya Pradesh.

Report by Dr. Kailash Kumar Mishra
Indian Languages Access to Cyber Technology
IGNCA is a partner in TDIL, the programme of the Ministry of Communication and Information Technology, Gvoernment of India. TDIL is Technology Development for Indian Languages. It aims at developing resource base in Indian languages. IGNCA has been assigned the project titled CoIL-Net – 'Cultural Heritage Digital Library in Hindi with special focus on Hindi to disseminate the vast resource material for wider use of the net and web users in Hindi and for people who are in their creative best in the that language. IGNCA's Cultural Informatics Lab employs an integrated method to develop applications to access diverse media on all fields relating to arts though multi-media and digital technology. The progress report of TDIL has detailed the inputs of IGNCA and the wide range of topics its has covered.