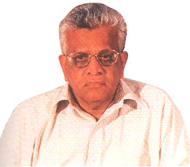 Prof. N R Shetty CHIEF EDITOR
Dear Colleagues,
For sometime now, I had felt the need for a comprehensive newsletter. One that would talk about our programmes and act as a window for our activities.
A newsletter has a significant role to play in the context of a premier national institution of India like the IGNCA. Over a period, it would build and project the image of our Centre as we see it and as we wish the others to see us.
I am sure this re-launch of Vihangama will fulfil this role, with active participation of IGNCA-ites. This is also an opportunity for all of us to write about our work, our interesting experiences and also subjects that are dear to our hearts.
I wish the endeavour all success.
Prof. N. R. Shetty
Member Secretary &
Chief Editor
[ Newsletter | List of Newsletter ]