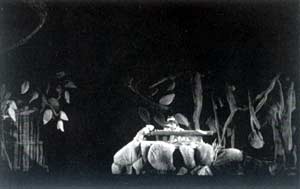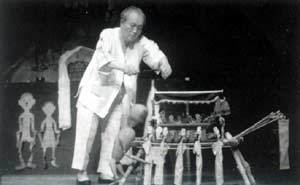 Puppets in Slide Collection
Puppetry is one of the most ancient arts of the world. its origin runs to hoary past and its appeal is universal. The puppets have been mostly used in religions oriented cultures for propagating religion, preventing evil, story telling, entertainment etc. The oldest written source mentioning puppetry in India is Mahabharata. We also find reference in the works of Panini 4th century B.C. and Patanjali in the second century B.C. There are also the references of shadow plays on the edicts of Ashoka period. there are four distinct types of puppets – string puppets, rod puppets, leather puppets and glove puppets. All the four types of puppets and puppet theatre traditions are live in India.
An India International Puppetry Festival was held in New Delhi in September, 1990. it was a grand event with puppetry teams from 28 countries participating. Together they present 69 shows in 15 days at six different venues in the city. The festival was sponsored by the Sangeet Natak Akademi in association with the Indian Council for Cultural Relations (ICCR), New Delhi. The IGNCA also contributed in the festival. Extensive photo documentation was done. This documentation is in the slides collection, in the IGNCA. There are 1059 slides on puppets.
There are strong traditional beliefs behind making these puppets especially in making the puppets of gods and goddesses. Set parameters in iconography and colour are followed. Rituals are conducted before commencing the preparation of puppets and the performance. In some areas the puppets are consecrated by offering pooja and sacrifice.
The puppets and the puppeteers are known by different names all over the world. the puppeteer in India is known as Sutradhar, in Java Dalang and in Cambodia Kru. The puppet is known in Java, Bali and Malaysia as Wayang and in Burma, Yokthe. In Burma puppetry is based on the Jataka stories. Ramayana and Mahabharata are the most important sources of puppet theatre in Malaysia, Java, Thailand, Cambodia, and Bali. India influence in puppetry extends to Burma, Thailand, Cambodia, Malaysia and Indonesia while China's influence spread to Korea, Japan and Vietnam.
The slides offer a close view of the puppets, their costume, their face make-up and the technical details. for a comparative study of puppets, this collection offers an excellent scope. Placed side-by-side, the slides of various country's puppets give a ready-for-reference information on the similarities and differences in style and regional variations of puppets.
The IGNCA also has in its collection the slides of puppets and their theatre from Sri Lanka, India, Korea, the Netherlands, Switzerland, Vietnam, Germany, Japan, Canada, Uzbek, Egypt, Indonesia, New Zealand, Mali, Czechoslovakia, China, Bulgaria, Romania, France and Chile.
Dr. Virendra Bangroo
|