Buddhist Fables
Buddhist Classics
Life and Legends of Buddha
The Illustrated Jataka & Other Stories of the Buddha by C. B. Varma Introduction | Glossary | Bibliography
020 – Nandivisala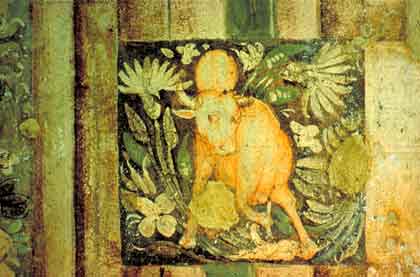 Nandivisala, Ajanta
Once a calf was given to a brahmin, who called him Nandivisala and treated him with care and affection. When the bull grew up he felt obliged because the brahmin had reared him up with care. To repay the expenses incurred toward his upbringing, he decided to help him. So, one day, he advised the brahmin to put a wager of one thousand coins to prove that he possessed the strongest bull in the village, who could drag one hundred loaded carts. The brahmin accepted the proposal and made the wager of one thousand gold coins in the local market to prove the strength of his bull.
A show was organised in presence of the people assembled there. The brahmin harnessed the bull with a loaded cart, which in turn was tied with another ninety-nine loaded carts. When the show was on, the Brahmin called the bull, "O rascal! Now pull these carts. Quick! Quick!" These words were insulting. Thus hurt, Nandi firmly fixed all his feet on the ground and did not budge an inch. The brahmin shouted and wailed; but it was all in vain because nothing could make the bull move. The brahmin thus lost the wager and paid one thousand coins to a local merchant.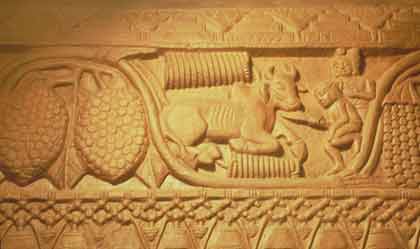 Nandivisala and his master
Back home, the brahmin lay on a cot in extreme grief. Moved with his agony the bull approached him and said, "Sir! Have I ever made any mess or broken any pot in your house ever since I lived here". The Brahmin said, "No". The bull then demanded, "Why did you call me a rascal, when I intended to help you? So, if you lost the wager it is the fault of your tongue and not my weakness. The wrong can still be redressed and you can still win a wager of two thousand pieces, if you feel sorry for your words."
| | |
| --- | --- |
| | |
| | Nandivisala declining to drag the cart |
The priest then made an apology and again followed the advice of the bull. This time he made the wager of two thousand coins with a local folk. A similar show was organised in presence of the people. This time the priest decked the bull with garlands and flowers. When the show was on he said, "O Gentle fellow! Can you draw the carts for me?" To the surprise of all, the mighty bull dragged all the hundred carts and helped the brahmin win the wager of two thousand gold coins.
(Those days Ananda was the brahmin and the Bodhisatta was Nandivisala)
See Nandivisala Jataka Jataka Pali No.28.